INTER HOUSE SPORTS 2020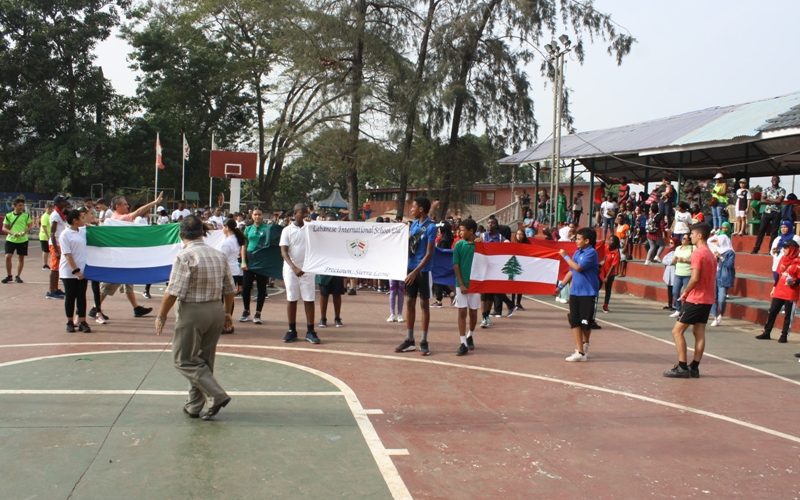 LEBANESE INTERNATIONAL SCHOOL
ANNUAL INTER HOUSE SPORTS MEETING
24TH JANUARY, 2020
As the saying goes "All work and no play, makes Jack a dull boy."  This not true for pupils of the Lebanese International School, Freetown.  Amidst our academic strides, sports is an integral part as our aim is to develop the child not only academically, but socially, mentally, physically and emotionally too.
In view of the above, the Lebanese International School on Friday 24th January, 2020 had our Annual Inter House Athletics Sports meeting at the Young sportsmen Club (Y.S.C.) Wilkinson Road.  The programme commenced with a march past of the different houses in their Red, Green, white and blue sports outfit.  Followed by the National Anthems of both Sierra Leone and Lebanon.
The Chairman Board of Governors Mr. Samih Hashim gave his opening speech, to mark the start of the programme.  The Free Health Care Team supported by Mr. Rashid Fofanah of the Physical Health Education Department gave an entertaining aerobic dance after the display by students.  Also present was Mr. Samir Hassanyeh ( the President of the Lebanese community ) and our able and dynamic Principal Mr. Ali Ahmad.
Lots of events were slated for the coveted trophies such as Potato Race, Pyramid Race, Dressing with hoops, Sack Race, Spokes and Shuttle Relay, Walking Giants, All House Relay, Staff Race, Parents Race and Tug of Peace among a host of other events.  There was so much fun and excitement.  Parents and Guardians in the house colours of their children joined in the celebration.  It was well organized with a proper Public address system and a coordinated commentary done by Mr. Winston Samuels and Mr. Steven Kanneh respectively.  A team of impartial judges from the Athletic Association of Sierra Leone conducted the event.
At the end of the day, several medals and certificates were distributed to deserving winners.  There was a tie-break at the top as Blue and White House emerged first (1st)  with 452 points each.  Red House was third (3rd) with 414 points while Green House came fourth (4th) with 404 points.