Christmas Competition 2018
Christmas Competition 2018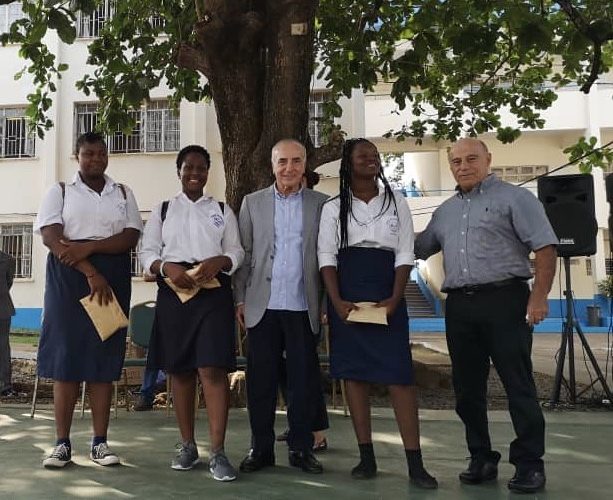 The Annual Christmas essay Competition organized by Mr. Faisal Basma, the Academic Board Chairman, usually opens the platform for children from different levels in the school to effectively exhibit their writing skill. For this, several prizes always awaits the lucky winners.
The topic for December, 2018 was "Leadership" considering its meaning and its importance in life. Based on the normal procedures observed by the judges to identify the winners.
The secretary general of the student committee, Miss Rahaf Ahmad read the welcome address and express the happiness and gratitude for the quick recovery of the chairman Mr. Samih Hashim and thanked The Chairman of the academic committee Mr. Faisal Basma for the Christmas competition done every year which awakens not all the students writing skills but also certain moral meanings in the topics chosen.
The Chairman Mr. Hashim said he was happy to be back to meet his beloved children.
Mr. Faisal Basma in a similar vein, referred to the students as "brothers and sisters" promising that he will continue making millionaires every year. He also introduced Ing. Raed Rafic Nassereldine, past student of the school who is doing a wonderful job at ICC.
The Principal, Mr. Ali Ahmad read out the prizes as follow:
1st Isha Sawaneh ( Le: 3,000,000)
2nd Caprina Lonko-Koroma (Le: 2,500,000)
3rd Palmyra Peters John (Le: 1,000,000)
"LEADERSHIP" AND  IT'S  IMPORTANCE IN LIFE
Leadership has many definitions but I define it as the capacity and will to rally people to a common purpose together with the character that inspires confidence and trust. It is the capacity to translate vision into reality.
Leadership is having the requisite ability to enable people to follow you which being under no compulsion as such to do so.
Leaders who possess great leadership qualities effectively channelize their energy and devote themselves for the growth and progress of humanity. The restrictions or obligations that he/she imposes on himself/herself enables him/her to rise against all odds and never bow down to circumstances.
There is an old-saying which is, "To be first in place, one must be first in merit as well". Thus an individual actually becomes a leader when he/she has the ability to lead mankind on the path of progress without any selfish reason.
Isha  Sawaneh